Great leaders understand that

trust

is the foundation to building a great

culture

, which will bring great results in both

productivity

and

profits.



Ignite Your Trust Factor,
Increase Your Conversational Intelligence™
and Build Trust Stronger Than Ever!
Unleash the Power within the Neuroscience of Trust
Online Leadership Training Program: The convenient online version of the world-renowned NET Leadership development program is open to you for the first time!
Trust is at the core of a healthy culture and a highly functioning company. While it is hard to measure, you can feel it when it isn't present. Research shows that companies with a high level of trust have reduced operating costs, increased productivity, lower employee turnover, happier employees and more loyal customers, and increased profitability. In fact, organizations with high trust outperform organizations with low trust by 300%.
You can now unleash the power of the neuroscience of trust for you and your organization in an Online Leadership Training Program. This is the same material Evoloshen has been giving live trainings to our clients for several years, diving deeply into the latest Neuroscience of Engagement and Trust. This has helped hundreds of leaders in more than 35 countries understand the power of conversations and how to communicate in an impactful way that builds trust.
Building trust is critical to a company's success,
not to mention the health of the entire organization!
Empower yourself and your teams by gaining the tools needed to create trust quickly and maintain strong relationships in the workplace (and yes, they will work even at home!).
High Trust organizations outperform low trust organizations by 300%!
What you receive with the Ignite Your Trust
Factor Program:
Register now for the
Ignite Your Trust Factor Online Training!
INDIVIDUAL
Get Started for Less
Two monthly payments of $275

BEST VALUE!
Bring Your Team
Purchase multiple licenses for you and your team and get 10% off for 5-9 licenses and 20% off for 10 or more licenses.
Contact us directly for these options.
Program starts immediately upon payment
The Evoloshen Academy Online Educational Portal makes it easy and convenient to take our trainings. 
The program is video based and you can go through it at your own pace!
What We'll Cover in Each Session:
Introduction to Conversational Intelligence (C-IQ™) & the Conversational Dashboard
Building TRUST – Learn the latest in Neuroscience Research and the Impact
The Smart Trust Matrix & Credibility
The 3 Levels of Conversation – The C-IQ™ Matrix
Session Five: Resilience and the CARE Leadership Model
Session Six: Why Culture Engagement Matters
Register now and receive these
SPECIAL BONUSES:

The
Joy Ambassador Training
that will cover the basics about the 5 Cultural Keys of Engagement

Extra
Master Classes
with exclusive content only available here! Harnessing Your Cultural Energy & Resilience Masterclasses

Evoloshen's
ROI of Trust in 15 Hard Metrics
Report
Why is this training important for all leaders
to attend?

Improves the understanding of important of conversations to building strong relationships

Increases effectiveness in leading teams and organizations

Empowers better decision making

Helps to build trust and credibility with teams

Enhances a high-performance culture

Creates higher levels of collaboration, creativity, and connection

Raises confidence and significantly reduces fear

Teaches 21 proven tools that improve conversational skills that get results

Provides a leading edge science based foundation in trust building

Can be applied not only at work but to ALL parts of your life!
By the end of the Ignite Your Trust Factor
program, you will:

Here's what
people are saying
about the
Ignite Your Trust Factor
training…
This training opened up my mind! I had good conversations with my group. It's great and it's relevant! And give it a 10!
All sessions were great! Enjoyed interacting with new people and closing the gaps…Karin's energy is awesome!
I would recommend this leadership training because you get a lot of good tools to work with that you can practice everyday to do a better job.

This online program is built on trust. We believe in all of our trainings and trust you will get a lot out of it. If you are not 100% satisfied with it after 30 days and haven't learned something new that can change your life, reach out with a message telling us why and we'll refund your investment. Our goal is always to provide long term value for our clients.
With the Ignite Your Trust Factor training, you will increase your professional credibility by being an amazing leader who knows how to strategically build trust, have quality conversations, handle those difficult conversations, develop better relationships with your team, and bring out the best in your people.
The program includes over 9 hours of training, insights, and 21 tools!
Join now and get immediate access to this powerful training
that you can go through at your own pace!

BEST VALUE!
Bring Your Team
Purchase multiple licenses for you and your team and get 10% off for 5-9 licenses and 20% off for 10 or more licenses. 
Contact us directly for these options.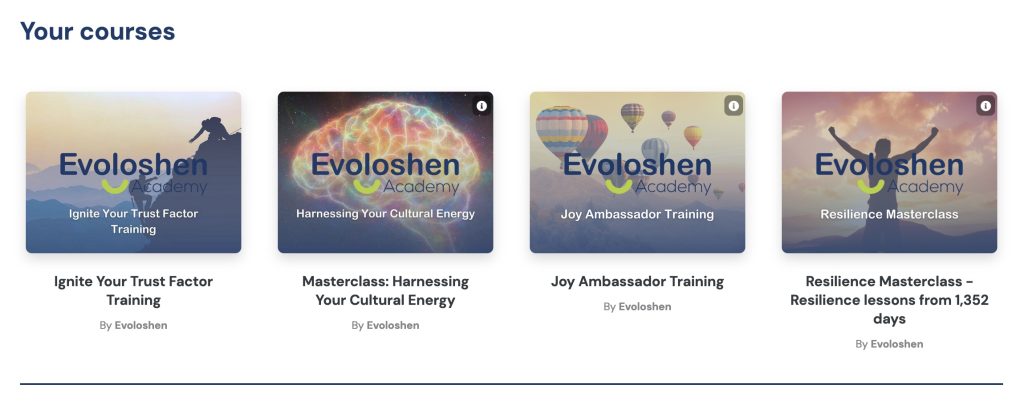 Our purpose at Evoloshen is Bringing Joy to the workplace! We do this with innovative corporate training programs, professional coaching, and cultural hacking.

While many look at global problems like economic growth, workforce effectiveness, employee turnover, chronic skills gaps,…and focus their time and energy fixing the problem, we take a different approach. How? By embodying the philosophy of the great scientist and awesome futurist, Buckminster Fuller who once said: "You never change things by fighting the existing reality. To change something, build a new model that makes the existing model obsolete."

And that's exactly what we're doing—helping our clients to create an engaging, high trust, and purposeful business culture where employees are thriving.

We work with our client companies to build new engaging models that make today's problematic models obsolete, and at the heart of our approach is "culture hacking." Thus, "culture hacking" is the art of involving people and education in smart effective ways to rapidly "recode" and advance culture, altering in the process the behaviors of everyday individuals to make them adopt smarter practices that elevate their lives.

Some of our amazing clients...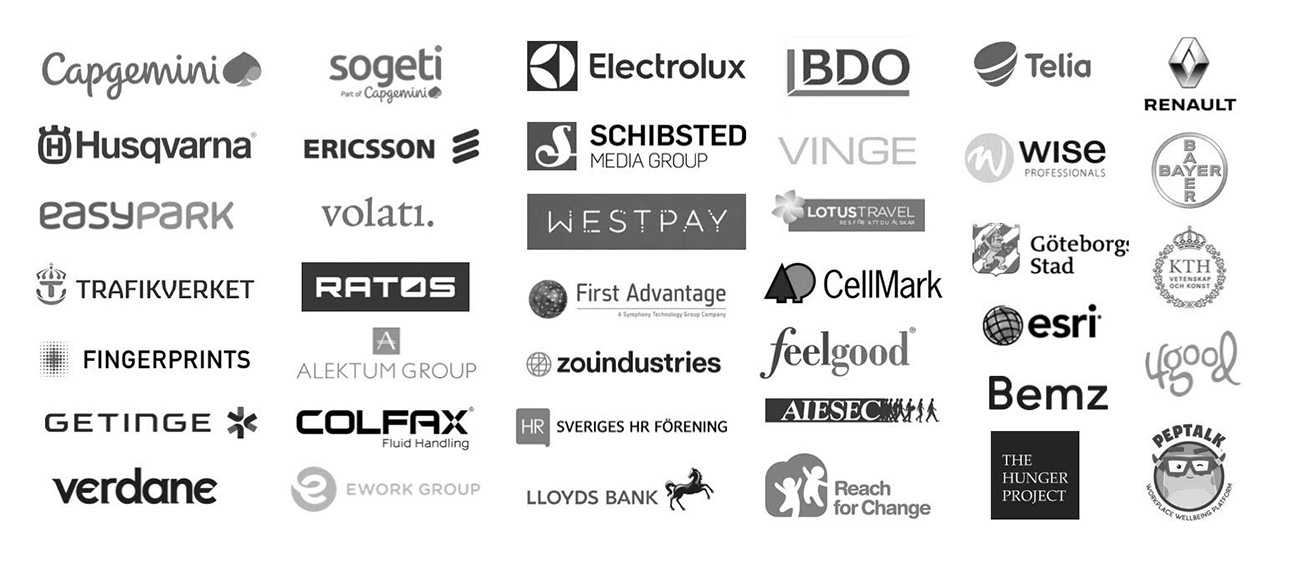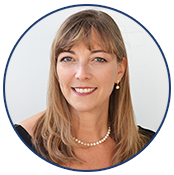 Karin Volo (Chief Joy Bringer / CEO), an expert in engagement, career, personal and organizational development, is known as the Chief Joy Bringer. She's a co-author of the international best selling book, Engage! How To Create A Workplace That You, Your Co-Workers and Your Customers Love. With 20+ years experience working with Fortune 500 companies globally, she has insights on business building, cultural transformation, and high performance. Karin works with cultural development, employee engagement, leadership mentoring, professional inspirational speaking and writing. She is also a Certified C-IQ™ Coach.
She uses her professional skills and draws from her personal experiences to help individuals and companies thrive. She is the author of the Bringing Joy children's series, a blogger on Huffington Post, a guest lecturer at several universities, and an expert judge on employee engagement awards in the UK and North America. Karin has been recognized as a global leader and employee engagement expert the last four years on the Engagement 101 list, the Top 30 HR Influencers and the 15 Most Influential Women in HR lists, and recently named on the 2020 Top Thought Leaders in Trust list. Karin's passion is helping people better their lives through sharing all she has learned on her own journey. Her purpose is bringing joy to the workplace.
Frequently Asked Questions
What happens when I sign up?
After your purchase, you will receive an email to register at Evoloshen's Educational Portal. Once you have set up your account, you will get immediate access to the Ignite Your Trust Factor online program, as well as the bonuses. You will have access to the entire program so you can go through it at your own pace.
How long will I have access to the materials?
The videos, slides, and workbooks are available online in our Evoloshen Academy educational portal for you at least a year. We aren't sticklers for this and chances are you'll have access much longer. We believe in creating a great community and connection with our participants long term!
What if I can't get access to the program?
Be sure to check your spam/junk email folders in case our confirmation emails have landed there. Just follow the easy instructions to get signed in. If you have any problems at all, reach out to us and we'll be happy to assist.
How do I sign up my team?
Choose how many team members you want to include (each person will have their own personal access and log in to our Evoloshen Educational Portal). If your team is 5-9 people, you'll receive 10% off. For teams 10 or larger, enjoy a a 20% discount. To sign up your team,  contact us here and we'll get you all set up.
BEST VALUE!
Bring Your Team
Purchase multiple licenses for you and your team and get 10% off for 5-9 licenses and 20% off for 10 or more licenses. 
Contact us directly for these options.